Slideshow
Other top rated products
Perfect accent!
Review by Erin B. on 7 Aug 2022
review stating Perfect accent!
I recently did a kitchen refresh and decided a copper kettle would be the perfect accent on our stove. After lots of searching, this kettle proved to be the right size and shape and I love how the copper stands out against the green cabinets. Also functions perfectly fine! Holistic Habitat was such pleasure to purchase from that I also bought their pour over kettle. I am sure there will be more purchases in the future! Thank you!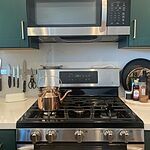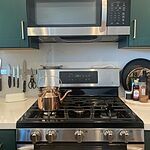 Q: Will this change colors with use?
A: It is coated copper. It will not change colors.
Q: Will this change colors as you use it? What is the inside made of? Does the handle get hot during use?
A: This tea kettle made entirely of coated copper with a brass handle. The handle does not get hot during use.
Q: My husband bought the English copper kettle. Is it safe to heat water to drink
A: It is. Copper is one of THE BEST things to boil her water in. Copper is naturally antibacterial and anti microbial and then it also adds essential copper to our diets.
Q: Does it have a whistle?
A: This does not whistle.