Slideshow
Other top rated products
Filter Reviews
5.0 star rating

4.0 star rating

3.0 star rating

2.0 star rating

1.0 star rating
Lovely
Review by Sarah G. on 27 Apr 2022
review stating Lovely
I am happy with this egg tray, it's nice to have a pleasing way to have our eggs out on the counter.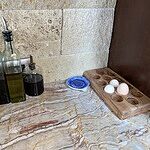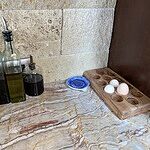 Wooden Egg Tray
Review by Lydia L. on 4 Oct 2021
review stating Wooden Egg Tray
This tray is the best - I love having my eggs out on the counter - I love seeing the assortment of sizes and glow of the shells of fresh eggs. We have backyard chickens so eggs can go weeks without being chilled - I like to put a gilded egg in here and there too, makes me smile.
Love love love this!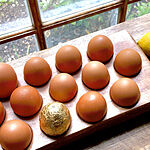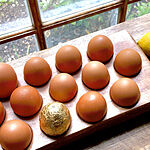 Super Adorable
Review by Cindy C. on 19 Sep 2022
review stating Super Adorable
I'm loving this adorable wooden crate to hold and also display the gifts my girls (hens) give me daily …
Awesome
Review by Michelle A. on 31 May 2022
review stating Awesome
The best way to store fresh eggs when your only hen lays one a day! Solid, heavy, and beautifully made.
Nice
Review by TOMMYE M. on 27 Apr 2022
review stating Nice
Nice
Q: What diameter are the holes?
Q: Can this be used in the refrigerator ?
A: It can be used in the refrigerator.