Slideshow
Other top rated products
Filter Reviews
5.0 star rating

4.0 star rating

3.0 star rating

2.0 star rating

1.0 star rating
Black Spice Labels
Review by Kyla A. on 31 Aug 2022
review stating Black Spice Labels
These labels are so chic! They really made my spice rack look so clean and uniform!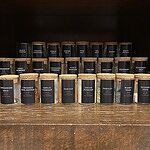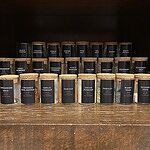 Chic and Organized
Review by Francesca M. on 26 May 2022
review stating Chic and Organized
I love these labels! I've always wanted a uniformed spice cabinet and these labels add a minimalist and chic way to do that. I have a lot of spices and there are SO many labels to use!
Perfect Spice Jars!
Review by Susmitha T. on 18 Apr 2022
review stating Perfect Spice Jars!
Just the right size
Perfect in every way
Review by Cathleen W. on 11 Mar 2022
review stating Perfect in every way
Perfect in every way
Label
Review by Mary P. on 26 Mar 2022
review stating Label
What font did you use for the labels?
Q: Hi there, I would love to order the Black Minimalist Spice - 162 Labels but it seems like you dont ship to Czech republic. Do you think you can arrange if I sent the payment upfront? I loved for 20 years in NY and now live in Prague and there is no way I get these or any English labels here:(. Thank you, Jana - janasolcanska@gmail.com
A: Hi Jana! Thank you for reaching out. We are unable to ship outside of the U.S. at this time.
Q: Where are the jars from?
A: These are designed in Australia and Ethically made in China.